Information on the office & whats around us
Main Door:
The Yellow Main Entrance doors will be open Monday to Friday 8am and closed at 5pm
Nikki is available at Reception Monday to Friday from 9am - 5pm
Entrance Afterhours:
If you enter before 8am on the weekdays or need to come in after hours please use Building Entrance 1 or 2 with your swipe card which will take you to the Yellow Rear Entrance where you will swipe to enter again. The entrance from the corridor is 24/7.
Entrance 1 below (Nelson Street Side)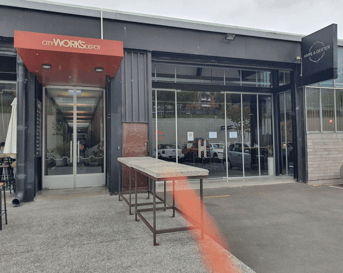 Entrance 2 below (Cook Street Side)
Bathrooms:
Please note our bathrooms are shared facilities and are located on the map in the passage/corridoe. Inside there is accessible toilets and showers.
Bins:
We have the following bins around the office:
RED - for landfill
ORANGE - for recycling
GREEN - for organics
YELLOW (large) - for cardboard
YELLOW (small) - for empty milk cartons
GREY - for paper
TIMG - sensitive/ confidential document destruction bin - under the Mezzanine Staircase


Hot/Cold Water Taps:
Cold/Chilled - gentle push or pull the blue lever
Hot - rest your thumb on the red safety sensor then gently push/pull the red lever. Release either the lever to thumb from the sensor when finished


Kiosk Sign in:
Please ensure ALL VISITORS sign in at Reception - all our H&D clients must sign in at Yellow Reception. This is for Health and Safety.
Main Lights:
The lights are located at the front Reception area, by the coffee table. Whoever is the first in and last out - please ensure these lights are switched on/off.
Aircon:
The aircon temperature is locked at auto cooling
Near us & tips:
Victoria Park | 5 minutes walk - Head on out for after-work/ lunchtime boot camp, corporate touch rugby, running, social cricket, picnic, the open are endless
Aotea Square | 10 minutes walk - Open-air concerts, gatherings and markets
Viaduct Harbour | 12 minutes walk - A vibrant hot stop for dining and entertainment
Wynyard Quarter | 16 minutes walk - Lots happening on the grass area down at Wynyard Quarter, especially in summer. Keep an eye out for movies, bands and events
Silo Park | 18 minutes walk - For basketball, Auckland Harbour views, Friday drinks and food trucks, open-air movies, eateries and lots of community events
"On The Green" is a small pub at Victoria Park that is great for staff get-togethers, Dean is great at working out deals and keeping to budgets. Does general drinks as well as corporate
"Yume" best Japanese on Vernon Street
"Poke House" next to Swiss-Belsuites is amazing, get in before 12pm for the spicy fried chicken
"Paneton" on Halsey Street for delicious pies
"Rude Boy" on Sales Street is great with both menu and cabinet food
"Hello Mister" on Hardinge Street for good 'served out the window' Vietnamese
"Toss" on Wellesley Street does 'pick your own' salads
Try out First Table website as there are a lot of places around us and they do bookings for lunch too (pay $10 to book through them, then you meals are 1/2 price)